Welp, it's certainly been a while since I last updated my blog here. Here's what's been going on:
Beneath the Haze
I am currently halfway through the first round of edits on my novel, Beneath the Haze. This stage of edits focuses on plot holes and inconsistencies. I'll most likely be adding half a dozen (or more) new chapters into the work in order to fill said plot holes and make everything flow better.
I'm also in a writing group now, which has helped my writing immensely in just the few short months I've been attending. Seriously, their feedback has been incredible, and this book is going to be so much better because of it. I'm also reading it with my wife, who also gives great feedback. Needless to say, I am very excited to start pitching Beneath the Haze to agents!
2. Street Rat
There was a board game design contest in April which I entered with a design of my own. I have never designed a board game before (unless you count the Candy Land-esk games I made up as a kid), and after one massive failed attempt, I started over with a new design and it took on a life of its own. Finalists were announced in May, and my name was on the list!
The game is called Street Rat, and it's a hidden movement game in which an Arabian child (the street rat) sneaks through the marketplace to steal food, while at the same time avoiding capture from the Royal Guard. The Royal Guard moves in the open, but the Street Rat hides his movements from the guard by playing behind a "blind," which in this case consists of the rules sheet standing up in front of the street rat player's movement board. Personally, I think it's a lot of fun. Judges are currently playing it, along with the other 7 finalists for my category, and I'll hear back later this month if I'm a winner or not.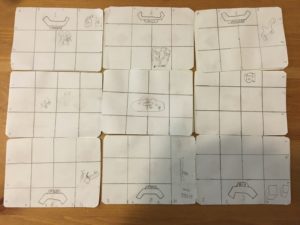 3. Board Game Reviews
I'm a board game reviewer now with Everything Board Games. Essentially, I get sent games, I play those games, and then I write up a review about said games. I really enjoy it, but it does take up a lot of time that I could (should) be spending on my novel. But, the reviews have slowed down a bit, and I'll make sure not to quadruple book myself (again).
So that's what's been keeping me from updating the blog and writing more short stories. I intend to rectify that (hence this blog post), and I will be writing more short stories soon. In fact, one board game podcast (Of Dice and Men) sent me a $25 gift card to an online board game retailer just for following them on Twitter! Once I buy a game, they said I needed to "write another short story, I enjoyed the ones you have on your site." That's pretty darn cool of them if you ask me.
One thing I love to do is write short stories based on thematic board games. There are so many stories waiting to be told from board games, and I love looking deeper than the cardboard to find those narratives and stories. So far I have three board game stories up on my website, so be sure to check them out!
Anyway, I'll make sure to update my website more frequently. There's  a lot going on, and I'm excited for all the opportunities I've been given.