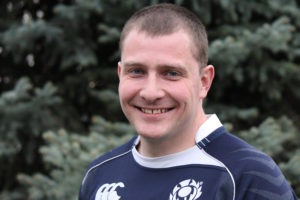 I was born and raised in Red Deer, Alberta, Canada, before crossing the border to attend college at Brigham Young University – Idaho in 2003. I graduated with a degree in Communications (with a broadcasting emphasis, although I veered more towards the realm of video production than actual news broadcasting). Throughout the course of my studies, I took a wide range of classes, including English literature and theater.
As a freshman I took a creative writing class, and that's where I first started writing not just for fun, but for purpose. Later on down the line I took a screenwriting class, where I began learning how to write for the silver screen. I took a host of theater classes as well, including reader's theater, acting, and storytelling. It was there I got into improv comedy and the art of traditional (oral) storytelling. You could say that all my classes were based around telling stories, as English, theater, and even video production all center around creating an engaging narrative.
I wrote my first real novel during my undergraduate studies, but after that my writing was put on hold for another couple of years. School was busy, and I also held a job on campus. My first campus job was a producer for our school-produced TV newscasts. I then moved on to become the news director of the program. I shot news packages, I directed the shows, and when I wasn't working in the control room, I was one of the news anchors. That's when I decided the news life wasn't for me and moved on to a job in the university's video production department. I wrote scripts for videos, shot, directed, and edited them. I was also a camera operator for live events. Sports were a rarity at that school, but I did work a few of those. I mostly worked concerts, which was a blast. Some performing artists I worked camera for were David Archuletta, Brooke White, and Ryan Shupe and the Rubber Band. A pretty good gig for a college student, if you ask me.
I graduated with my bachelors' degree and I moved further South to Provo, Utah where I began my master's program in Mass Communications. It was there I learned the art of writing scholarly essays – much different than my favorite fantasy novels.
Halfway through grad school I started writing for pleasure again. It was a welcome break from writing my thesis (a very arduous process, even if it was about the sport they play in heaven – rugby), and it most certainly flowed better. Before I would graduate with my masters degree, I would complete two more novels.
While attending graduate school, I met a wonderful woman and somehow convinced her to marry me. Eleven months after our wedding, we welcomed our first child – a sweet, baby boy – into our family. Now we have another little dude among our ranks, and the joy is never ceasing (nor is the chaos). My wife and children are my light and my strength, and the best family I could ever ask for.
I'm currently working on a high fantasy novel with Beneath the Haze as its working title. Of all the novels I've written, this excites me the most, and I'm working hard to make it the best it can be so you can one day read it.
When I'm not writing, playing board games, and otherwise spending time with my family, I  review board games on the side for Everything Board Games, and it's more fun than I could've possibly imagined. I'm also one of the editors on the site.
While writing fiction isn't necessarily my educational background, it is still my passion, and is something I plan on doing for a very long time. I periodically update this site with new short stories I have written, and possibly even some excerpts from some of my novels. I am an avid table top gamer as well, so I will also be adding short stories inspired by those games.
Feel free to let me know what you think! I know my wife says my stories are wonderful, but let's be honest…she's a little biased.
Follow me on Twitter @BenjaminKocher