Wow, November has been all kinds of busy! But, my novel won't write itself, so I'm continuing to find time where I can. Today is November 16, 2016, which means we're halfway done with November and NaNoWriMo. Here's where I am write (haha) now: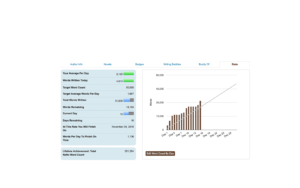 Total word count: 31,835
Average words per day: 2,122
Pages (single spaced): 69
Chapters: 22
I have only been able to write two or three days a week, so I'm actually quite surprised at my word count. I do use most of my lunch hours to boost that count, which will give me anywhere from 500 to 1,200 words. Still, every little bit helps.
Despite everything that is happening this month, I should still finish my 50,000 words by November 30th. But I do have a concern…
You see, when I outlined this, it looked like it was going to be very long. But then, after I got a ways into the book, I realized I didn't have as much content as I had initially thought. I was hoping for this novel to be around 100,000 words. That length seemed a good fit for the nature of my novel, but as I near the end of the my outline, perhaps I wasn't as careful as I thought I was.
No matter. I will reach 50,000 by the end of the month, and I know there are plenty more things I need to add to improve the story. So, by the time 50,000 words rolls around, the story itself should be done, but just like Dwarf Mountain, extensive revisions will see entire new chapters added, giving it more depth and structure.
So that's where I stand with my novel, Beneath the Haze. I am enjoying writing this and get excited when I finally get to write about the twists and turns the plot brings. I look forward to giving you all a deeper look in the future.
Click the image to read a short story examining the Celtic belief of Death as a person.