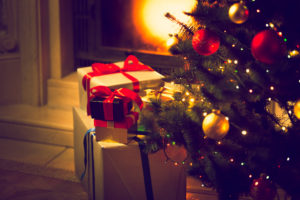 As a teenager and all through college and grad school, Christmas was a holiday that I looked forward to a lot. It wasn't because of presents or being with family (although those things certainly were nice), but it meant that school was out. It was a nice break from the daily grind and a time I could lay back, sleep in, and do whatever I wanted.
I never got super excited about Christmas mismo (sorry , the English term alludes me…). Just ask my brother and sister who tried stomping on the floor above my room to wake me up at seven, eight, and nine in the morning. Waking up was haaaard, and what was Christmas if not a chance to sleep in? They were excited to get the day going. Me? I was happy waiting.
Now that I'm married, however, things have changed. My wife is super excited about Christmas, and now that we have two little kids (one actually old enough to unwrap his own presents), the magic of the holiday seems so much more real. But there may be another reason for that magic.
Christmas is a time when we celebrate the birth of Jesus Christ. Whether you're a believer or not (I am), you can't deny that the spirit of Christmas is something nearly tangible. People are more giving, more caring, and think less of themselves and more of others. Certainly, there is magic in that spirit.
The more I get into the "Christmas spirit," the more I love the season. You see, there's something about giving – whether it's gifts of toys, time, or whatever – that makes us happier. Looking out instead of in, we can see what really matters.
For me, I have a beautiful wife and two adorable sons. For me, that's what matters. Everything I do, day after day and year after year, is for them. I try and show my thanks all the time, but sometimes the business of life gets in the way. I love Christmas because I get to give to them, spend more time with them, and enjoy their company.
This Christmas, I hope all of you can find the time to reach out and give a meaningful gift to someone in need, whether that's just spending time with someone who is lonely, giving gloves or a hat to a homeless person, or just shoveling an extra bit of snow in front of your neighbor's house. I can guarantee you that you will find happiness in your service, and Christmas will become even more meaningful to you.