I went camping with my wife and child once again this past weekend. It was an adventure in things going wrong.
We reserved our campsite well in advance, and yet when we showed up, there was already a family camping in our reserved spot. To make things even more confusing, the post at the site where reservations are clipped said that the Coopers (yes, I still remember their name) had this site reserved, and have apparently been there for days already.
We parked at an empty camp site within the campground and then tried to find the camp manager. She wasn't around, so we went for a nice stroll and tried again. Still nothing. So we decided to hope for the best and start settling in to that site. It was going to get dark soon, so we decided to set up the tent and hope nobody had reserved this one, either. There wasn't a sign saying it was reserved, so we had hope.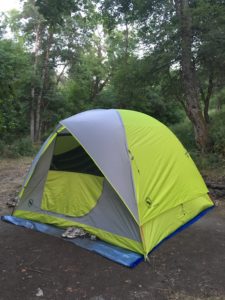 We set our tent up quickly and started a fire so we could cook some food and feed our kid (and ourselves). The site was nice enough, but kind of close to another site. That was fine, though, since a nice wall of trees blocked our view, but we could hear them pretty well. They were a family with I think three small children. The kids seemed to be having a great time.
While we were cooking, a truck pulling a large trailer pulled up to our neighbor's site. We watched with interest, hoping they wouldn't make their way over to us and tell us we were squatting on their reserved site. Fortunately, they went to visit with our neighbors. Unfortunately, it appeared that there was yet another scheduling conflict. Apparently, the family had shown up to the camp ground, found an empty site, and set up camp.
Well, these trailer-pulling people had previously reserved that site, and after a very confusing bit of dialogue, the family was forced to pack up and leave. The children cried, one of them saying over and over, "I don't want to leave! I don't want to leave!"
I felt terrible. Those kids were out enjoying the camping experience and to them, these mean people with a trailer were forcing them away from the one place they wanted to be. Of course, it's not the trailer folks' fault at all – they had reserved the place. But due to some glitch in the registration system, there was no sign saying they had it reserved.
Kind of like how we reserved a site and still couldn't camp there.
But, as luck would have it, nobody came to kick us out. We enjoyed a wonderful fire, our son stayed up way past his bedtime but was hilarious in his 14-month-old way, and we had a great time. We slept well enough considering the discomforts of camping, and the morning proved to be bright and sunny (as soon as the sun peeked its head up over the mountains).
After breakfast we decided to strike camp (since we were only going to be staying for one night) and then go for a hike before taking off. Our site boasted a huge boulder, flat as a wall on one side and mostly flat on top. In order to keep our son from wandering around and getting into trouble while we took down the tent, we strapped him into his booster seat and set him on the boulder. He watched us work with great interest and seemed to enjoy it.
Then it started to rain.
The rain started off just sprinkling down on us, but we started to rush anyway. Then it came down harder. We managed to pack up our tent before it got wet, but the tarp underneath got soaked. As we struggled to fold the tarp, the rain came down harder, and our poor kid started crying. This was his first experience of being stuck out in the rain, unable to find shelter.
My wife propped up an umbrella to keep the rain off of him. He looked rather ridiculous underneath it, but he was happy once again. Well, at least he wasn't crying. He probably wasn't very happy still (as the picture may imply).
Finally we got everything stowed away into the car and as soon as we started to drive away the rain stopped. Typical. But there was no way we were going to hike through a drenched forest with our kid. That wouldn't be a very pleasant experience for any of us. So instead we went to a nearby waterfall that's along a paved path at the bottom of the mountain we were on. There we experimented with drinking the water straight from the stream down below.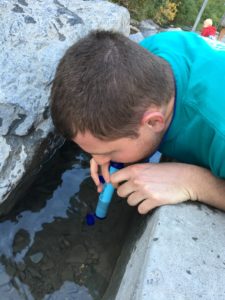 Turns out, this Lifestraw thing is pretty good! Just get your face nearly submerged in any water source and start drinking! It filters out anything, and since we didn't get sick from it, we assume it worked properly.
Following that wonderful experience we went home. It was a short camping trip, but since that was all the time we had, it worked out nicely. We're glad we survived the rain and weren't kicked out of our camp site. Really though, things could have been a lot worse. Later that night we went to the last event of the Timpanogos Storytelling Festival, which I will have to write on at another time.
Share your worst camping experience in the comments below!
Click the image below to read the Prologue and Chapter 1 of Dwarf Mountain: