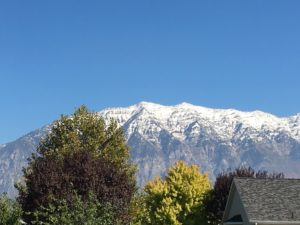 Fall has fell. Fallen? At any rate, summer's gone. But you know, it's not so bad. The trees are turing all sorts of fun colors, and even though it's still warm down here, there is so on the mountains, adding to the contrast and beauty of it all.
It's ironic, then, that all this beauty comes as everything starts to die.
Leaves, once green, burst forth into yellows and reds and oranges before they finally drop from their boughs on which they hung so tightly for so long. The snow blanketing the mountain peaks have also covered the already sparse flora that grew there. As autumn sets in, death begins in earnest. And yet, we celebrate the vibrant colors of dying leaves, the stunning accent of snow capped mountains.
We're a morbid people, that's for sure.
I love the fall season. Being from Canada, the summers here can be a little warm for me at times (although it is still nice to have such a long summer season!), so when fall comes, the temperatures drop to a something a little more comfortable. I still wear shorts and t-shirts while most other people transition to jeans and light jackets. It's perfect.
Many (if not most) people I come in contact with see the snow on the mountain and immediately begin mourning the loss of summer. What I find funny is that the snow they see is so far away, it would take quite the expedition to get to. They bemoan their fate while the sun still shines and the grass is still green. It's all about perspective, really.
As I plot out my new book (which I plan on starting in November), I'm trying to find great characters. I want unique points of view that I don't even have yet. I want a variety of opinions, backgrounds, and beliefs. I look out at the mountain in the distance, trees in varying shades of death in the foreground, and I realize that what I see – beauty and change – is a dirge for others.
And so my mind returns to the characters I wish to see in my book. How to make them unique, diverse? Give them an autumn landscape. Who sees beauty, and who sees death? Who sees the world in its natural progression, and who is running from home to home warning against the end of the world? Perspective and opinion can help shape my characters. Sure, there's much more to it than that, but as I continue developing the residents of my new world, I will continue to fall back on this lesson I see as I sit here on my lunch break writing in my blog.